Embrace Winter Magic in Utrecht: 7 Unforgettable Experiences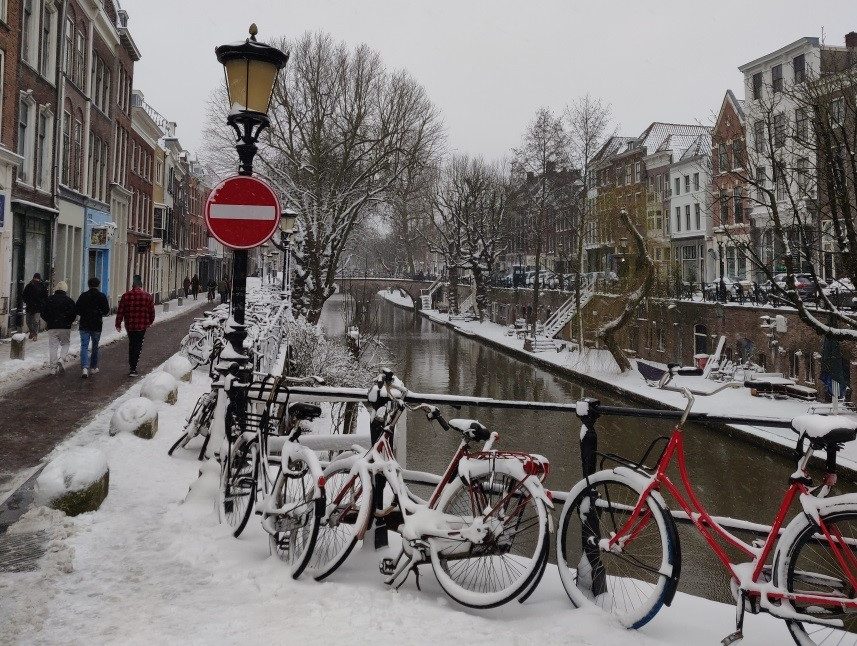 The days are getting shorther and darker… Winter in Utrecht casts a spell of enchantment, transforming the city into a magical wonderland adorned with twinkling lights and festive cheer. As you prepare to immerse yourself in the winter charm of Utrecht, we've curated a list of seven must-do activities to make the most of this season. And if you're looking to add an extra layer of magic to your winter adventure, join our upcoming Dutch course at Dutch First!
1. Canals Aglow in Winter Splendor: As the sun sets, take a magical stroll along Utrecht's historic canals. The soft glow of old lanterns illuminates the waterways, creating a unique and enchanting atmosphere. This winter, experience the city's architectural beauty in a way that is truly unforgettable. You can take a tour on one of the city's canal boats, or just stroll past Oudegracht, Nieuwegracht, Kromme Nieuwegracht, Drift and the Singel to enjoy a wintery escape to past times.
2. Savor Sinterklaas Delights: Indulge your taste buds in the festive delights associated with Sinterklaas. Treat yourself to pepernoten and chocolate letters, traditional Dutch delights that are synonymous with the joyous season. These winter treats and all-things-speculaas are typical for December in the Netherlands.
3. Christmas Market Delights: Although not traditionally Dutch, christmas markets have now made their way to almost every major Dutch old town. Explore Utrecht's winter markets and soak in the festive ambiance. Sample seasonal treats, find unique gifts, and revel in the holiday spirit. The Christmas markets in Utrecht and surrounding promise an experience filled with warmth, community, and the joy of giving.
4. Explore Winter Cycling: Utrecht's bike-friendly reputation extends even into the winter months. Hop on a bike and explore the city adorned with festive decorations. Feel the crisp winter air as you navigate the streets, discovering hidden gems and embracing the cozy vibes of Utrecht on two wheels. Venture out of the city and you will find empty forests, farmlands, lakes and streams waiting for you to be discovered. With any luck you can take photos of the typical green Dutch landscape covered under a layer of powdery white snow.
5. Attend Cultural Winter Events: Immerse yourself in Utrecht's rich cultural scene during the winter season. Attend cultural events such as art exhibitions and theater performances held in museums and theater venues throughout the city. Utrecht comes alive with creativity, offering a vibrant and diverse array of winter cultural events for everyone to enjoy.
6. Uncover Utrecht's Winter Wonders: Delve into the historical charm of Utrecht by visiting its winter wonderlands. Discover indoor activities that capture the essence of the season, from cozy cafes to charming bookshops. Whether it's the iconic Dom Tower or the enchanting canals of the city center, explore the nooks and crannies that make Utrecht a captivating destination in the winter months.
7. Learn Dutch at Dutch First: Amidst the winter adventures, why not embark on a linguistic journey? Dutch First offers a supportive environment for beginners to learn the Dutch language. There are several courses starting in late November. But our upcoming Dutch course, starting on December 7th and running every Tuesday and Thursday from 19:30 to 21:45, provides the perfect opportunity to enhance your language skills while experiencing the warmth of Utrecht's winter, as this course runs through the whole winter into 2024. Register now to secure your spot and discover the joy of connecting with a new culture. Learn more about the course and register here.
As the winter days unfold, Utrecht opens its arms to those seeking enchantment and cultural richness. Embrace the season's magic by exploring the canals, indulging in festive treats, and immersing yourself in the cultural tapestry of Utrecht. And if you're ready to add a linguistic layer to your winter adventure, join us at Dutch First for an unforgettable Dutch language learning experience! Winter in Utrecht is waiting for you!