B2 High Intermediate Level Dutch courses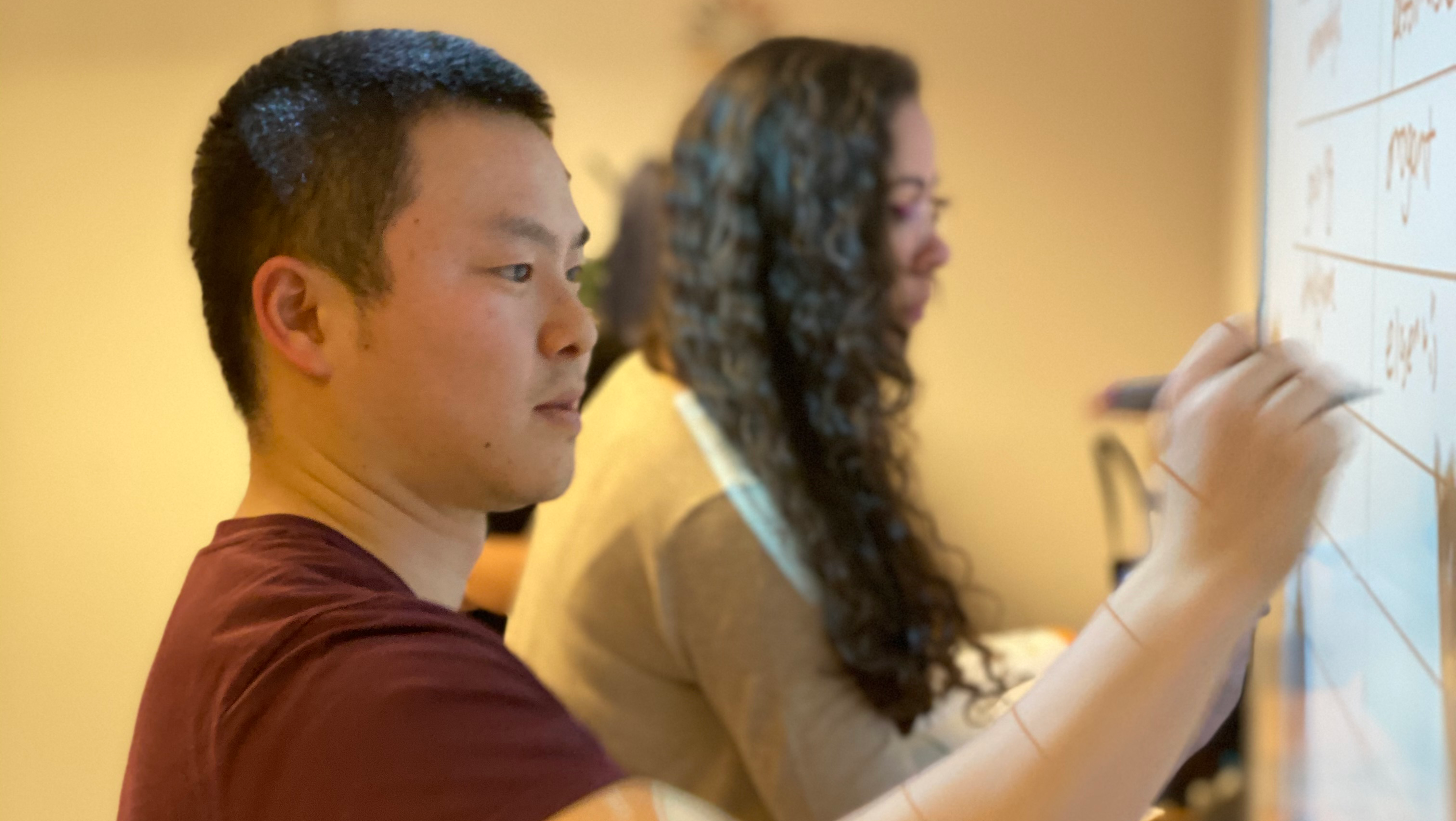 Consolidate your listening, speaking, reading and writing Dutch skills and communicate independently
Our Dutch High Intermediate Course is designed for students who want to bring their reading, writing, listening and speaking skills to an advanced and independent user level for communication in Dutch.
Our course is perfect for those who have completed B1-level Dutch education and who can understand and speak Dutch at an intermediate level and communicate about matters pertaining to everyday professional and private life.
Our B2 high-intermediate level will improve your communication skills and increase your linguistic understanding of the Dutch language. After this course, you will be able to understand the main ideas of more complex texts and have technical discussions in your field of operation.
Our B2 courses are meant for those who want to solidify their listening, speaking, reading and writing in Dutch. Gain the independence to carry out simple and complex tasks that require the use of Dutch language.
Starting from 350 EUR
Reaching a B2-level proficiency in Dutch with us means that you:
can present and discuss topics related to your own daily life, but also about politics, the environment and the media
can support your views with arguments and can express pros and cons
are able to point out cause and effects, distinguish main ideas from details and are able to structure your Dutch
can communicate proposals, agreements, promises and expectations
can distinguish and understand several Dutch dialects
are able to critically read, understand and evaluate texts and use different learning strategies as needed
have learned to write texts in various genres independently
interact with a degree of fluency and spontaneity that makes regular interaction with native speakers possible and comfortable for either party
can use all different verb tenses and appropriate grammar in both spoken as well as written communication
can understand statistics: read and describe graphs and draw and explain most important conclusions from data
are able to express what you do and do not know, can express doubts or dilemmas. Can ask for help in Dutch and understand and give advice
are prepared for the Staatsexamen Niveau II (NT2 State exam Level II)
Choose what works for you!
This course is meant for learners of the Dutch language who have completed intermediate-level B1 courses, according to the Common European Framework of Reference (CEFR) for languages If you are interested in joining a B2-level course without having completed our B1-level courses, we would advise you to do a placement test with us first.
You can choose the course that best suits your time schedule. Students can attend standard courses with lessons twice a week, or intensive courses with lessons four times a week. Our classroom-based courses have 3 lesson hours of 45 minutes per lesson. Online courses have 2 lesson hours of 45 minutes per lesson.
You can choose to attend classroom-based courses at our location in Utrecht, or online courses via Zoom.
This B2 Full Package course is our best deal to cover the full B2 higher-intermediate level of Dutch at Dutch First. This course will help you become even more proficient in Dutch grammar and continue to focus on your pronunciation and active independent use of Dutch in your day-to-day and professional life.
Join this course and complete the first half of the B2 high intermediate level in a package course covering the first two modules of our B2 course. Focus on gathering and understanding complex information for research and doing interviews or requests in Dutch.
This is the first of four short and engaging course modules at the B2 high intermediate level Dutch at Dutch First. Join this course to get started on your B2-level education with us and learn advanced grammar to help you with your speaking and writing.
This is the second of four courses of our high intermediate-level B2 Dutch courses at Dutch First. During this course you will learn skills such as how to do sales and bids in Dutch, doing interviews and recognizing verbal and non-verbal signals in communication.
This package course covers the second half of the B2 high intermediate Dutch level at Dutch First. Join this course to finish your B2-level courses and prepare for the Staatsexamen NT2 in a fun and interactive intensive B2 course.
This module course gets you started on the second half of the B2 level with the third of four courses at the B2 high-intermediate level at Dutch First. During this course you will work on speeches and debating while improving your knowledge of sentence structure and advanced vocabulary.
In this final of four course modules at the B2 high intermediate Dutch level at Dutch First you will wrap up the B2 level and focus on exam preparation for the Staatsexamen NT2. You will also learn to talk about bad news and how to prepare for and do job interviews in Dutch.
Course material for classroom-based courses
The use of books and other teaching materials on the course is obligatory. Books are not included in the cost of the course and you can buy the required books at our school or in most bookshops. Your instructor will also provide additional material that is not included in your textbook and associated workbook. You will receive homework based on the textbook and workbook used on your course.
Obligatory materials:
Contact! Nieuw 4 leer-werkboek and digital environment € 59,95
The books are available as a mixed-method digital and printed version. Please bring your leer-werkboek to each lesson.
Course material for online courses
Our online E-learning + virtual classroom courses are all-inclusive courses. Included in your course you will get 24/7 access to engaging online digital resources with language trainings such as listening comprehension, pronunciation, reading and writing exercises and Dutch grammar up to one month after your course. We will activate your student account and send you the instructions before your course starts. About 4 hours of preparation is required before each lesson (also before the first lesson!). You will have LIVE Dutch lessons in a virtual classroom, with a real teacher and real classmates. No books are required.
Course Certificate
At the end of your course, you will receive an official course certificate from Dutch First as proof of attendance in the course if you have attended at least 80% of the lessons of your course.
Public holidays
Lessons that would fall on a Dutch public holiday in the regular schedule will be rescheduled to take place on a Friday or the course will be moved by one lesson date. There are no lessons between Christmas Eve and New Year's Day.